Since I bought my nook a few weeks ago, I've been reading constantly. Like most other things (cooking, blogging, reading, sewing, whatever), I go through phases where I'm super inspired to read and then other times where I'm just not that into it. But lately I've been devouring books. A few recent ones I've read: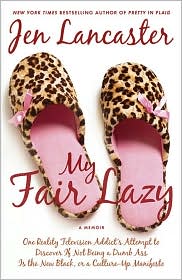 Jen Lancaster's
My Fair Lazy: One Reality Television Addict's Attempt to Discover If Not Being a Dumb Ass Is The New Black, or a Culture-Up Manifesto
This is the fourth book I've read by Jen Lancaster and she always cracks me up. Her books aren't deep (I know mom always says not to judge a book by its cover, but really. Look at the cover. Sums it up pretty well.), but she's just funny and her books are always great for light reading.
Nicholson Baker's The Anthologist. About an author trying (and failing) to write the intro to his poetry anthology. There isn't much in the way of story or characters, except for the narrator, but that character is so well done that it doesn't need any more. It's a simple book and totally enjoyable to read.
Sam Wasson's Fifth Avenue, 5 A.M.: Audrey Hepburn, Breakfast at Tiffany's and the Dawn of the Modern Woman. I have no idea why this book gets an average of 2.5 stars from readers; I liked it considerably more than that. (Actually, after reading the reviews, it appears that people wanted the book to be about Audrey Hepburn and "the stars" which it is not.) The book goes into great detail about how the story was translated into film, how decisions were made about casting, music, costumes, etc. and how the movie probably wouldn't have been made had each of those decisions not been made the way they were, due to the subject matter. Makes me want to re-watch the movie and read the original Capote story.
I'm currently reading Elizabeth Gilbert's Committed and I'm thoroughly enjoying it. I'll review it once I'm done.